WORKLIGHT SPEAKER SP-4500 | A SOUND CHOICE
The new Unilite SP-4500 provides an all in one solution with the combination of a powerful 4500 lumen worklight and a built in 10W Bluetooth speaker.
Utility comes in many shapes and sizes. Be it a pencil with an eraser on its top, or a mobile phone with a built in camera. Tools that combine one or more features can help lessen the burden of carrying too much and the cost of purchasing separate items. In practical terms it will light up an entire room or work surface, whilst booming out your favourite tunes with crystal clear sound quality.
WORKLIGHT SPEAKER WITH BOOMING 10W SOUND
The word booming is very apt, as the 10W speaker has extreme amounts of bass whilst maintaining fantastic clarity in any song. As for the light, 4500 lumens is a massive output that is sure to rival anything else on the market. Its COB (Chip On Board) LED which can be smoothly dimmed using an easily turned switch. From 450 lumens, all the way up to the powerful advertised 4500 lumens, as well as anything in between. By having this, Unilite have allowed a runtime of 3.5 hours on its fullest brightness and up to 12 hours on its lowest setting, which both include having the speaker on at the same time!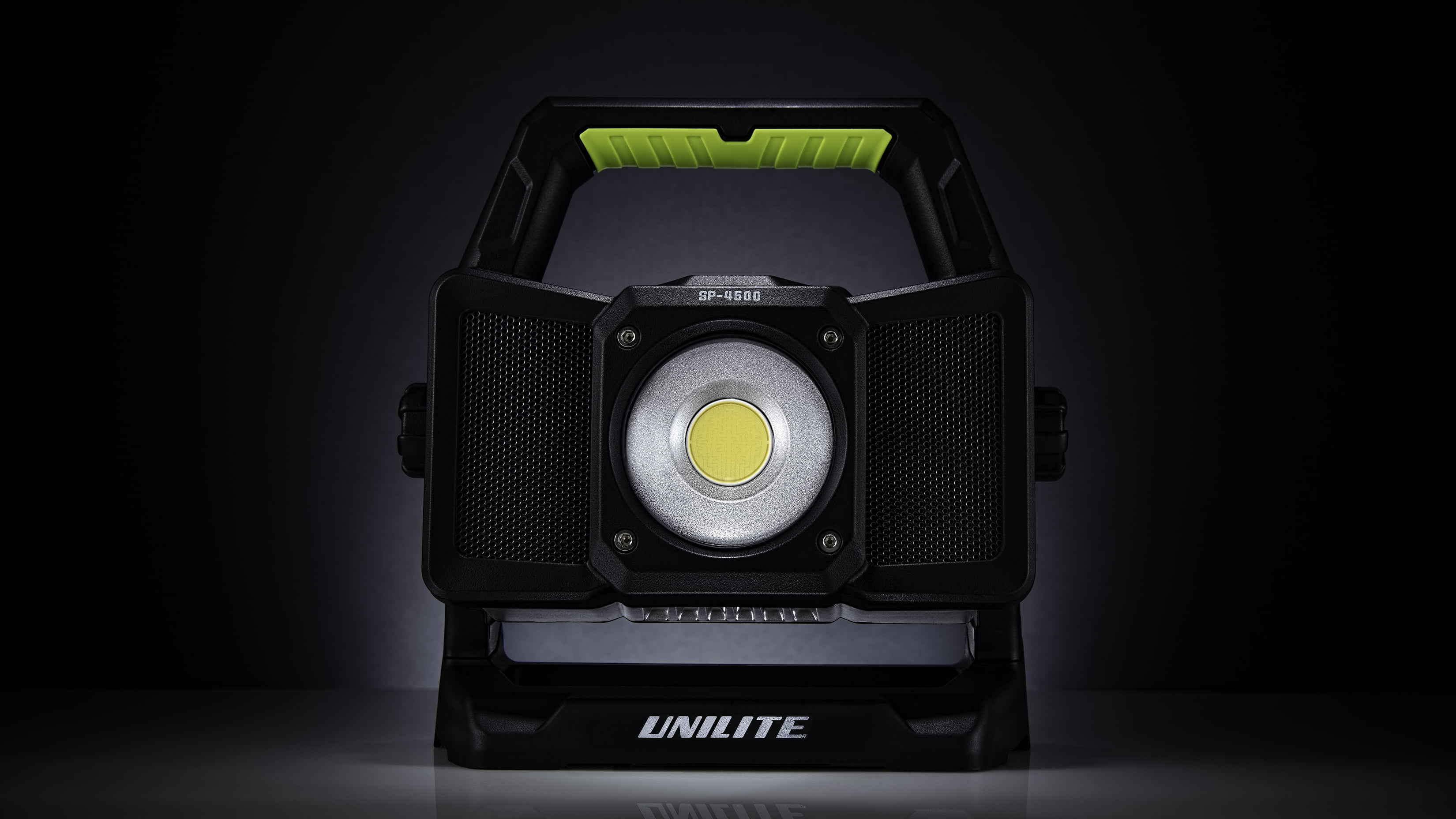 RECHARGEABLE & MAINS POWERED
Of course the mention of run time brings up another conversation. What powers the SP-4500? A 11.1v 5200mAh Li-ion rechargeable battery powers the SP-4500 with its ability to be easily charged via its multi country mains charger. To the rear are some charging light indicators that usefully double up as battery life indicators. Its not always practical to keep your worklight charged, which is why it can also be operated directly from the mains. It also provides a back up if the battery hasn't got enough charge to see you through your job. 
SHOCK, DROP & WATERPROOF
Every Unilite worklight has incredible build quality; Our whole design philosophy is 'Lights Built Tough'. The SP-4500 certainly lives up to this reputation and even has the figures to back it up. A construction of ultra tough nylon polymer encases the unit and provides a strong shield against any external damage. Backing this up is an IK07 shock resistance rating This determines anything that impacts into the worklight. As well as providing 2M drop resistance for the occasional inevitable drop on the floor. This assurance gives you the confidence to use the SP-4500 in the most unforgivable settings. Perfect for using on a site, in a yard, or even for any home DIY! You can also have confidence it would survive in the elements. The SP-4500 has ab IP65 rating ensuring survival in the heaviest of rain and strong degree of particle defence.
PRACTICAL & FLEXIBLE WORKLIGHT
A light is no good if you cant place it where you need it. This is why the SP-4500 comes with a handful of useful positioning features that ensures no corner of a workspace is unlit. Firstly, just simply picking it up is a breeze. The SP-4500 has a rubberised grip handle and a weight of only 1.45kg. When you have it in the right spot, you can angle the light up and down to the tune of a 140° angle. If you need to elevate the worklight then there's a concealed ball joint hook underneath so you can usefully position it at height. For even more utility it can be attached to either a Unilite strong magnet or tripod.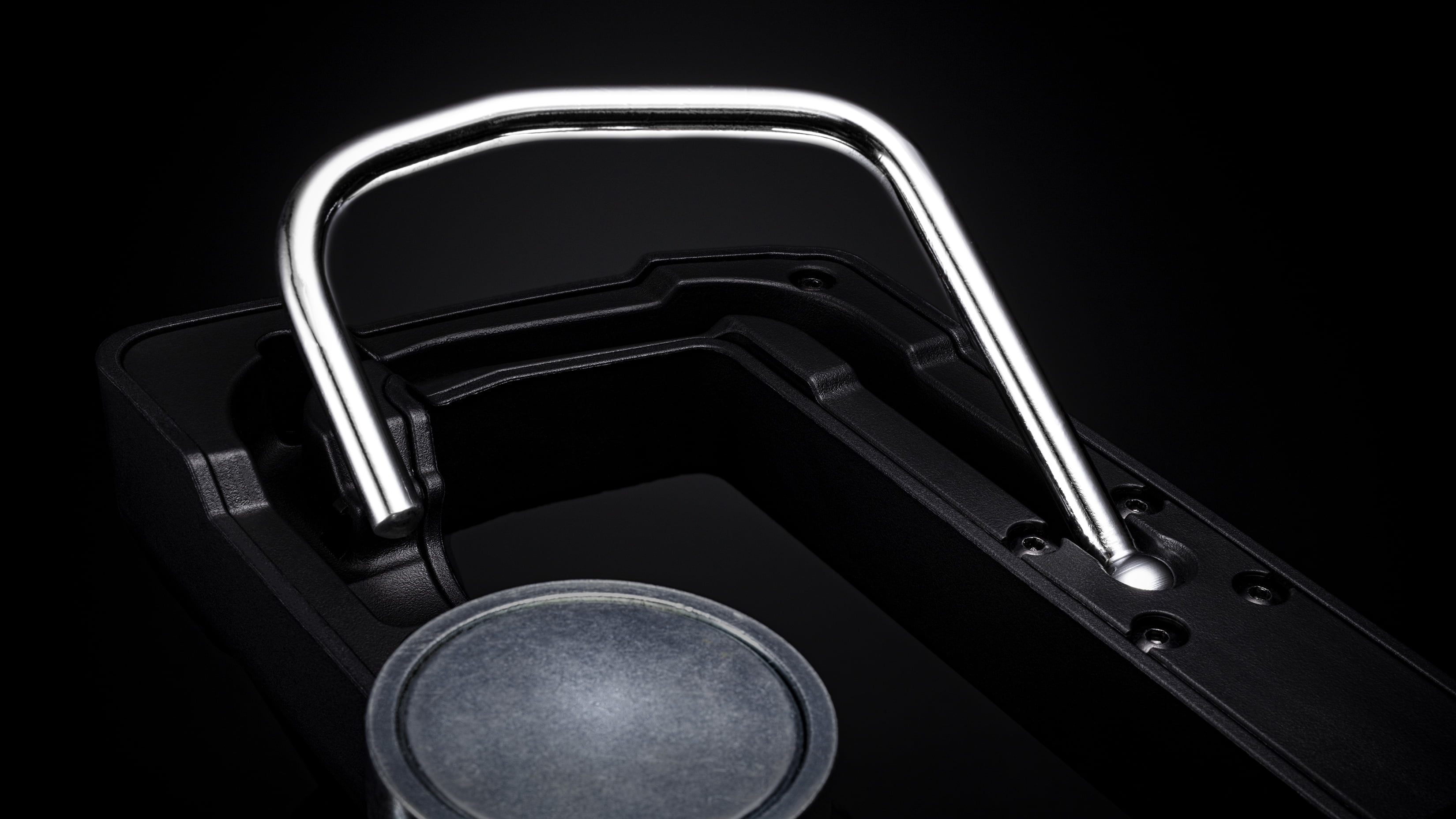 Its hard to sum up the SP-4500 as its so feature rich, being the Swiss army knife of worklights. With a powerful 4500 lumen light, impressive Bluetooth speaker, strengthened structure and an array of placement options.
Unilites latest worklight is a sound bet for anyone that wants ultimate utility in a compact package.
---